Interactive Performances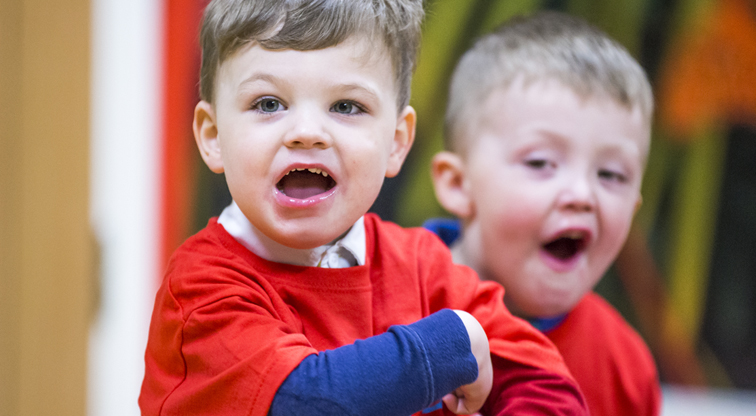 Our Interactive Performances are becoming hugely popular both with nurseries and schools (we can entertain up to 30 children at a time!) and with parents in public sessions. Audiences are flocking to see them, filling Pyjama Drama 'theatres' to the rafters across the UK! Why? Because they're LOTS of fun!
These are one-people shows (you'll be amazed at how one talented performer can command the stage alone for up to an hour), and we don't use props or costumes (because we don't need them!). We'll arrive with nothing more than Pyjama Drama music and, most importantly, our imaginations.
Of course, no show would be complete without a little audience interaction. Children are encouraged to get involved in the story from the word go; taking on different roles (one minute a goodie, the next a baddie), sharing their ideas (shouting out is actively encouraged!), learning and joining in with new songs, and playing games inspired by the story.

Parents
From The Invisible Superhero to The Real Witch, our shows are jam-packed with music, song, drama games and interactive adventures. Around the country, you'll find one-off Interactive Performances that are taking place during school holidays (search 'holiday sessions' here) and in some areas, more regular performances (search 'Interactive Performances' here.)
Schools and Nurseries
Our wide range of ever growing themes both support the curriculum and mark specific celebrations. Shows include;
'It's Woof on the Roads' (Road Safety)
'The Real Witch' (Halloween)
'Room on the Broom' (Halloween)
'Robin Hood the Panto' (Christmas)
'The Night the Angel Sang' (Christmas)
'Jack Frost and the Spider's Web' (Winter theme)
'Guess How Much I Love You' (Valentine's Day)
'Wake up Sleepy Bunny' (Spring/Easter)
'The Giant and the Broccoli Bake'
'The Invisible Superhero'
'Football Fever'
'A Very Royal Wedding'
If you'd like more information about having an Interactive Performance in your school or nursery, please search for your local Pyjama Drama leader here, and send them a message.